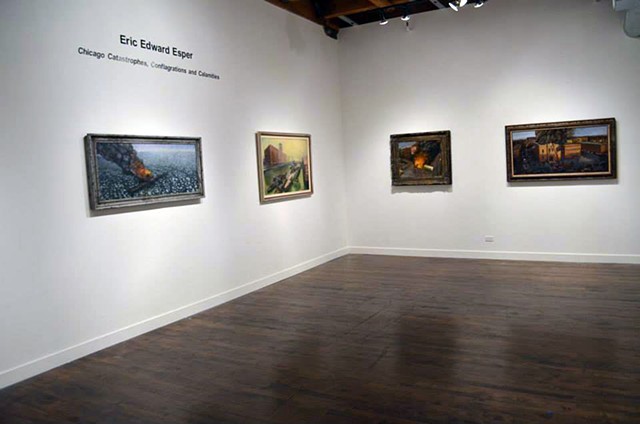 After obtaining my BFA in Illustration from Northern Michigan University in 1996 I relocated to Chicago to pursue my artistic endeavors. Here, I began oil painting exclusively and assembled a body of paintings chronicling scenes of Chicago done primarily in plein air.
Capturing parts of the city's landscape during its cultural evolution and my fascination with history led me to create paintings of scenes that have affected us in dramatic ways. I began painting aerial views of locations that have interesting historical significance, encapsulating true stories that are hard to imagine and harder to forget.
My paintings capture these places and illustrate them with accurate attention to detail. Using various sources I recreate these scenes with many photographs of every angle of the incident, and much research of the stories, submersing myself in the event.
I created a body of paintings depicting events with local tragic significance, displaying scenes of the darkest hours of Chicago's history, where the cityscape became the backdrop for tragedy and calamity. I have since painted a series of historical American tragedies that portray some of the most dramatic early disasters in the United States.
These events that irrevocably altered so many lives are important to remember. Primarily to memorialize the people lost and how it affected our society, but also to remind us that disaster can occur at any time, anywhere.